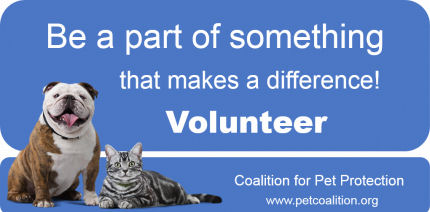 Animals have no voice. It's up to us to be their voice. It's up to us to speak out and speak up for them. There are people out there that would like to do animals harm. People who have control issues and feel the need to have power over the powerless. People who have anger issues and an animal is the closest or easiest target to release that anger. People who would hurt an animal for no other reason than just to see it hurt. Lastly there are people who hurt animals for profit. This could describe someone in a dog fighting ring as well as someone who overbreeds or collects animals.
If you're interested in helping CPP make a more comfortable life for animals in need please get in touch with us. Volunteering is more than saying you love animals and want to help them. Volunteering is having the dedication to prove that adoration. The animals are innocent and rely on us for their every need. As a volunteer they rely on you. Volunteering can be a tiresome job, but one that is so worth it.
Some of the opportunities we have available are:

Photography


Fundraising


Grant writing


Advertising and marketing


Assisting with newsletter creation


Assisting with the CPP's food pantry deliveries


Designing images for our Cafe Press store


Seamstress for pet bandanas


Recording secretary


Photo archiving


Sitting at an event table to educate the public and introduce Coalition for Pet Protection
This list is by no means a complete one. As CPP grows we will be needing more volunteers for even more areas.
For